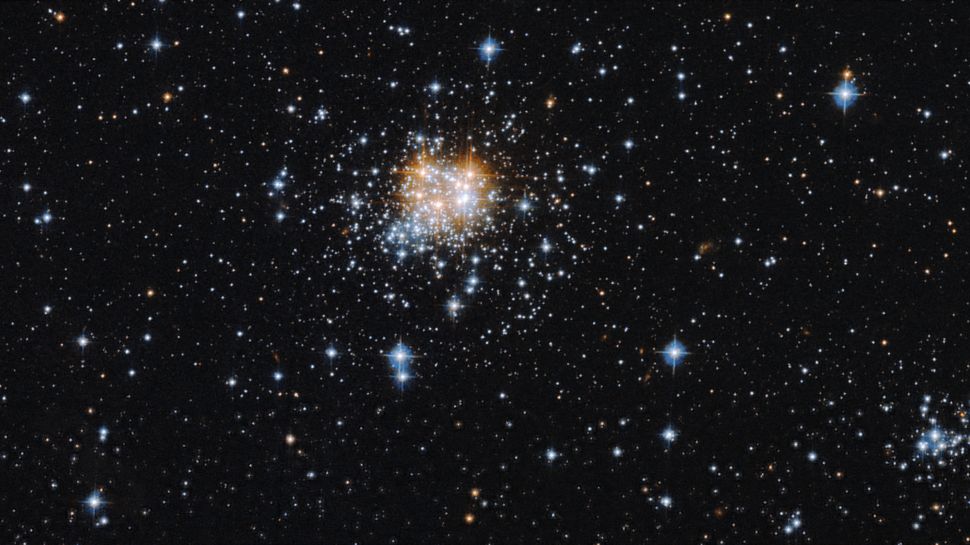 Stars in the NGC 2002 cluster shine brightly in a new Hubble Space Telescope image of deep space.
The cluster is located about 160,000 light-years from Earth inside the Large Magellanic Cloud (LMC), a galaxy that orbits our own Milky Way. NASA shared the Hubble Space Telescope image on 5 December.
At the center of the cluster sit five red supergiants, or stars that have begun fusion of helium as their internal hydrogen fuel is exhausted. These stars are massive and have sunk inwards. The lighter stars have moved towards the outer edges of the cluster.
related: Best Hubble Space Telescope images ever!
NGC 2002 in particular is known as an "open cluster", meaning that its 1,100 stars are loosely bound to each other and may spread away from the cluster within the next few million years. The relative sparseness of the star cluster allows scientists to observe each individual star. It is also a relatively young group, with an age of only 18 million years.
Because of its youth, NGC 2002 provides a natural laboratory in which scientists can observe the early stages of a star's life. Understanding the birth, evolution and death of stars is vital to our comprehensive understanding of the universe. Stars are the building blocks of the universe, providing places for planets to form (and for life to develop!) To better understand our Sun, the Solar System and the Milky Way, scientists observe stars throughout the universe .
The LMC, home to NGC 2002, is one of the best places for scientists to observe stars at various ages. The LMC is a 7,000-light-year-wide dwarf galaxy orbiting the Milky Way approximately 163,000 light-years away. It is one of the closest galaxies to us, allowing scientists to see individual stars of each age within the galaxy.
Follow us on Twitter @Spacedotcom or on Facebook,