One of the many payloads flying atop a SpaceX Falcon 9 rocket on Tuesday (Jan. 3) is a tiny craft that could help change the way the US Space Force gathers weather data.
The SpaceX mission, known as Transporter-6, sent a total of 114 small satellites into Earth orbit for a variety of customers, including the Space Force. The latest branch of the US military installed its Electro-Optical/Infrared (EO/IR) Weather Systems (EWS) CubeSat aboard Transporter-6.
The EWS is an experimental satellite designed to prove new imaging technology – specifically, an EO/IR system employing a smaller sensor. If all goes according to plan, the CubeSat will use this gear to observe Earth for a year.
"If successful, this will provide an innovative option for delivering space-based environmental monitoring data to a warfighter at an operationally relevant speed," said Lt. Col. Joe Maguadog, EWS materiel leader and program manager, in a Space Force statement.
"This demonstration will inform our transition toward a more economical, scalable and flexible EO/IR weather array," he added.
Connected: What is US Space Force?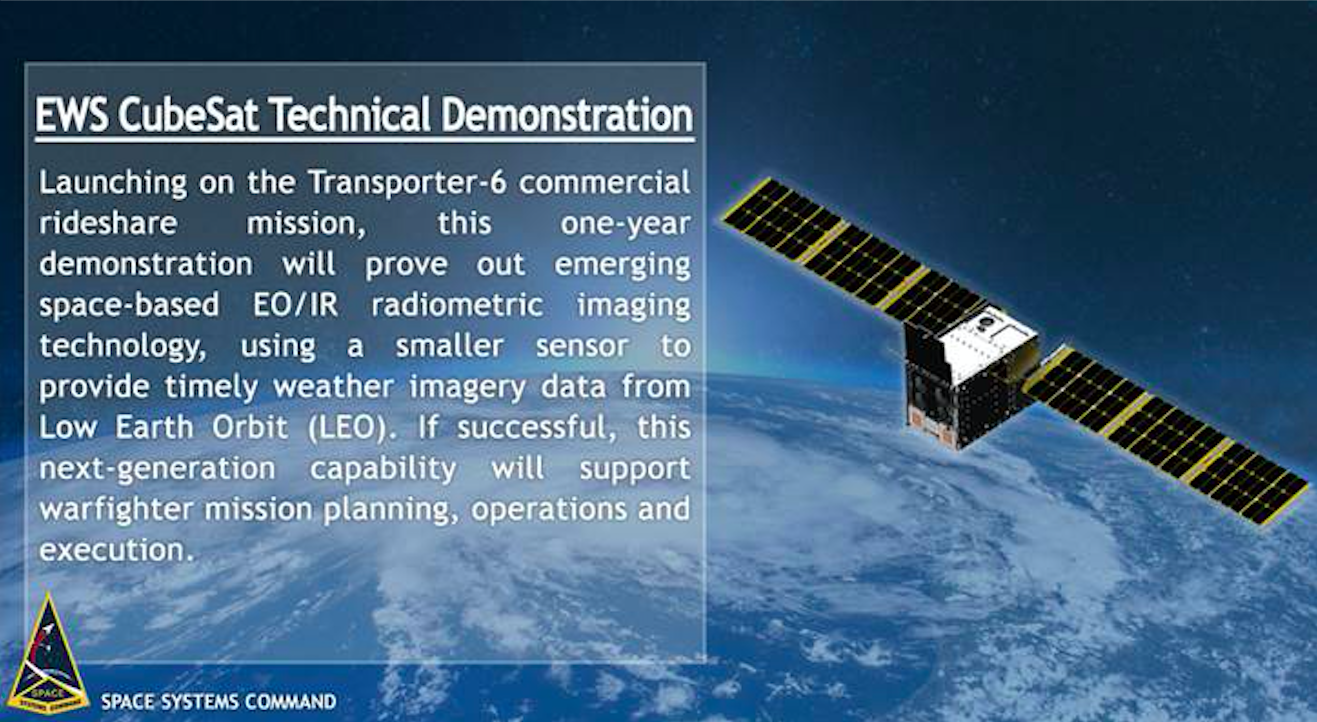 EWS and the philosophy behind it are part of a broader transformation the US military is making with its space assets.
Goal is to rely more and more on smaller, cheaper satellites (opens in new tab) Which can be quickly built and launched. The reconnaissance and communications systems that such spacecraft rely on are harder for an adversary to degrade than conventional space networks, which take years to develop with a handful of highly capable but expensive and complex spacecraft.
Small satellites are becoming more and more capable, as are their manufacturers, increasingly in the private sector.
For example, 36 of the satellites that went up on Transporter-6 were "Superdov" Earth-observation craft operated by the San Francisco-based company Planet. Superdows are about the size of a loaf of bread, but can resolve features on our planet's surface just 10 feet (3 m) across.
Transporter-6 was SpaceX's first mission of 2023 and the company's 200th orbital flight overall. Transporter-6 also achieved another milestone: It marked the 15th launch of that particular Falcon 9 first stage, tying the reusability record set by the company last month.
Mike Wall is the author of "out there (opens in new tab)(Grand Central Publishing, 2018; illustrated by Carl Tate), a book about the search for alien life. Follow him on Twitter @michaelwall (opens in new tab), Follow us on Twitter @Spacedotcom (opens in new tab) either Facebook (opens in new tab),